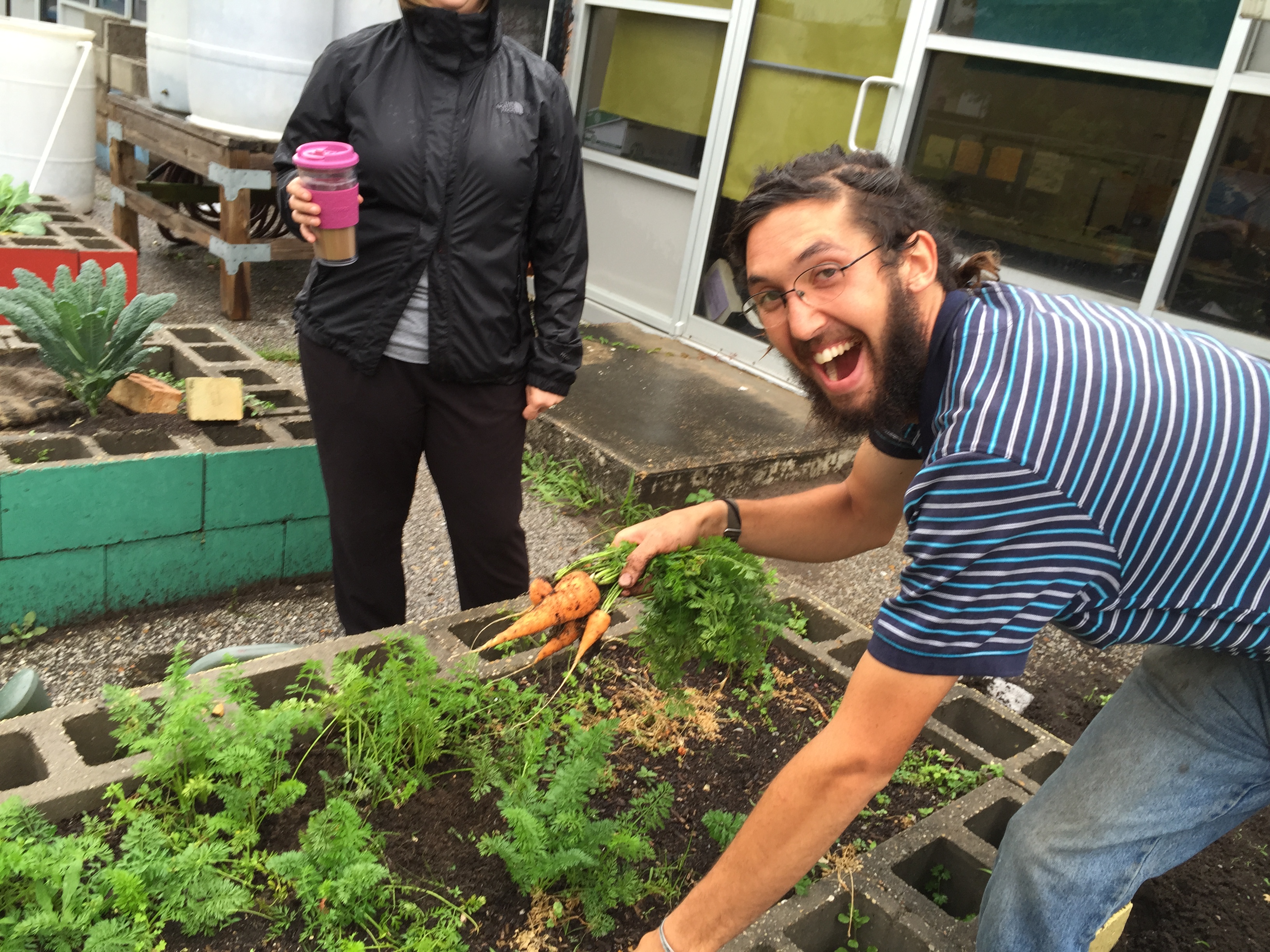 New Orleans
Watch a video by Laura Rockett about the work of New Orleans YAVs
Program Partner
The Young Adult Volunteers in New Orleans is a mission of the Presbytery of South Louisiana. The purpose of this program is to offer to young adults a God-Seeking, Life-Changing experience that prepares Young Adults to take part in God's mission in the world for the rest of their lives.
Program Description
To be a Young Adult Volunteer in New Orleans is to seek God and be transformed in one of the most unique cities in the world. In New Orleans you will cry with and serve your neighbors who grieve the effects of Hurricane Katrina, poverty, violence, and a disappearing wetlands. You will also joyfully dance in the streets with those same neighbors at Mardi Gras, Jazz Fest, or a passing Second Line. The YAV program in New Orleans offers many opportunities for you to engage the city on many different levels and to seek God in the tension of sorrow and celebration.
Placement Opportunities (subject to change)
YMCA Educational Services: As a YAV you will work at YMCA Educational Services (YES!) as a teacher and tutor. The purpose of YES! is to teach adults the reading and math skills needed to succeed in the workplace, help their children learn, and be active, engaged citizens. YES! is the only adult education provider in the New Orleans region that focuses exclusively on serving these lowest-level readers.
Encore Academy: As a YAV you will learn all about the New Orleans Charter School system by working at Encore Academy which is an elementary and middle school. Encore Academy is a local charter school in which 90% of the student population is on assisted lunch. As a YAV you will work in one of two placements a member of the reading and math intervention team, or the assistant to the creative arts team.
Wetlands Advocacy and Education (Sponsored by Bayou Blue Presbyterian Church): As a YAV you will Work with organizations like Center for Hazards Assessment Response and Technology (CHART) The NRCS and The Peoples Conservation to facilitate an education outreach program and help develop a Presbytery-funded Wetlands Education Theological Project focused on environmental advocacy, specifically the issues of coastal restoration. Volunteers work with Bayou Blue Presbyterian church, develop relationships with indigenous communities, and connect them with vital resources.
JW Johnson Community School Yard Garden (Sponsored by Saint Charles Avenue Presbyterian Church): As a YAV you willserve as the Community Gardener connecting the community garden with the surrounding neighborhood, the school, and coordinating community members to plant, maintain, and harvest garden beds. Volunteers maintain the garden and inspire the surrounding neighborhood, to learn about gardening and healthy, sustainable eating habits.
Habitat for Humanity: As a YAV you will assist the organization pursue its mission to provide affordable housing to residents and to eliminate poverty housing system in New Orleans by working in the Habitat Restore. You will be the ReStore Volunteer Coordinator working with a core group of volunteers who come daily to work in the ReStore. The Habitat ReStore is a vital aspect to the sustainability of Habitat for Humanity.
Mid City Ministries: As a YAV you will tutor and mentor at-risk children and youth in the mid city neighborhood through this organization. As a YAV you will provide leadership and compassion to students who participate in the after school program, weekly character development program, summer camp, and ACT Prep program.
Project Homecoming: As a YAV you will work with in the Presbytery of South Louisiana's nonprofit organization to build resilient communities and fulfill housing needs of low-income, elderly and disabled individuals affected by the hurricanes of 2005. Three positions are available: 1.) Worksite Managers oversee volunteers and construction. 2.) Volunteer Village Manager coordinate and host weekly volunteer teams at the housing facility 3.) The PR/Marketing Assistant will help implement that PR/Marketing plan for Project Homecoming.
First Presbyterian Church New Orleans (Part time Position): As a YAV at First Presbyterian Church you will join the church in its mission of welcoming all people into the life of the church. You will learn about the root causes of Homlessness in New Orleans and become an instrumental leader in the First Presbyterian's Thriving Homeless ministry Program of Hope. As a YAV you will also lead the church's Christian Education Program.
Campus Minister at University of New Orleans (Sponsored by Lakeview Presbyterian Church) As a YAV campus minister you will spend time getting to know the diverse and unique UNO campus by partnering with the Episcopal Campus Ministry Program, coordinating weekly meals where you will help lead discussion/lectures based around issues facing New Orleans, Plan Quarterly events for students, and meet regularly with students needing spiritual care. You will also become involved with Lakeview Presbyterian Church working on Sunday mornings and helping lead multiple Sunday school classes.
Housing
YAVs live in an urban neighborhood, sharing a four bedroom house which houses eight volunteers.
Intentional Community Aspects
While in New Orleans YAVs live in an Intentional Christian Community, with fellow YAVs who are serving in New Orleans. The intentional community is responsible for developing a community covenant that will guide relationships and support the community throughout the year.
Each YAV in New Orleans will also be assigned a Host Family. The Host Families are local New Orleans families who will open their heart and homes to you during your YAV year. YAVs do not live with Host Families, but these families are a space outside of the YAV house for YAVs to go when needed.
YAVs meet weekly as an intentional community to reflect on their mission experiences, concerns, vocational call, and faith journey. Volunteers lead Bible studies, book discussions, and commit to sharing the stories of their experiences in service and community through blogging, writing newsletters, and journaling. Volunteers also meet once a month for a joint service project and shared meal.
YAVs will go on three local retreats which provide time for spiritual renewal. Support and encouragement will be found through other volunteers, site coordinator, congregation members, individual mentors, and the community of south Louisiana that truly appreciates the sacrifice and love of volunteers.
Goals of the New Orleans YAV site:
For Young Adults during their year of service learn about God, themselves, servant leadership, and social justice with the purpose of being transformed so that this one year will prepare them for rest of their lives to take part in God's mission in the world.
To be a safe and loving community for the Young Adults who spend a year in New Orleans. We are a home in which young adults are able to explore, risk, and fail within a safety-net of grace, love, and compassion.
For Young Adults who come to New Orleans during their year of service develop a mindset of calling- which is not necessarily linked to what job they have.
For the presence of Young Adults to transform the Presbytery of South Louisiana.
Requirements
Age: 20-29
Education: college desirable
Desired qualities
35-40 hours/week volunteering at one of the partner site placement agencies
Live in Intentional Christian Community with fellow YAVs
Living simply while still enjoying the abundance of God's gifts
Own transportation (vehicle or bike)


Site Coordinator
Layne Brubaker
Tags: