Joining Hands
Joining Hands is committed to justice, restoration of the Earth and the abundant life promised by God for all people. Read More
---
Food and the Climate Crisis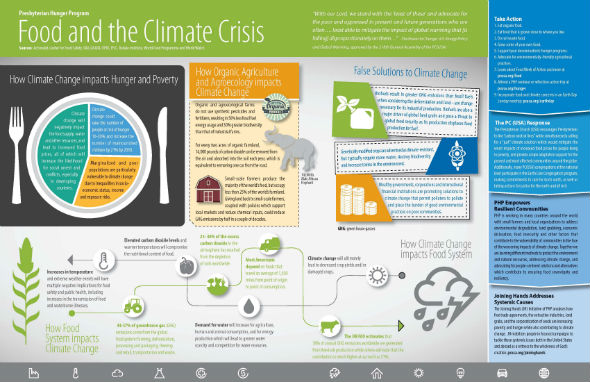 The Joining Hands (JH) Initiative of PHP analyzes how free trade agreements, the extractive industries, land grabs, and the corporatization of seeds are increasing poverty and hunger while also contributing to climate change. JH mobilizes people in focused campaigns to tackle these systemic issues both in the United States and abroad as a witness to the wholeness of God's creation.
Download our new poster on Food and the Climate Crisis
---
What You Can Do
Go! Travel to places where JH is active to meet with people suffering injustices and experience the reality of organizing for systemic change www.pcusa.org/trips
Join! If you are an individual passionate about fighting systemic causes of poverty, there's a place for you around the table. Contact valery.nodem@pcusa.org for more information on joining one of our three campaign tables: food & land, extractives & water and trade reform. Let's problem solve together!
Act! Respond to requests for action from our global partners through letter writing, engaging members of Congress, conscious consumerism, study groups, hosting international visitors, speaking, vigils and prayer.
---
Our country networks
---