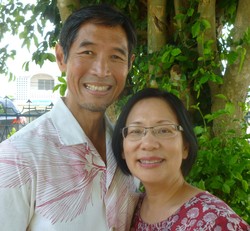 Read letters from Leith and Carol Fujii
Subscribe to Carol and Leith Fujii's letters
April 2014 - A Global Mission Event
March 2014
November 2013
August 2013 #2
August 2013
June 2013

April 2013
February 2013
October 2012
September 2012
June 2012
May 2012
April 2012
October 29, 2011
October 15, 2011
February 2011
January 28, 2011
October 2010
June 2010
April 2010
January 2010
December 18, 2009
September 25, 2009
June 17, 2009
April 13, 2009
March 2, 2009
For older letters, contact Mission Connections

Watch a video about the Fujii's work
The 2015 Presbyterian Mission Yearbook for Prayer & Study, p. 235

Rev. Leith and Carol Fujii
Mission co-workers in Thailand since 1998
Serving at the invitation of the Church of Christ in Thailand
Give to Leith and Carol's Ministry
Contact Leith Fujii (Leith.Fujii@pcusa.org)
Contact Carol Fujii (Carol.Fujii@pcusa.org)
Carol and Leith will next be in 2018. Email them to extend an invitation to visit your congregation or organization.
***PLEASE NOTE: Leith and Carol have begun serving in a region with high security concerns so their letters will no longer be posted on their Mission Connections website. This is for their safety as well as that of the people with whom they work.***
---
About Leith and Carol Fujii's ministry
Leith and Carol Fujii were appointed in 1998 by the PC(USA) to serve in Thailand in partnership with the Church of Christ in Thailand (CCT). Leith is an instructor in English and evangelism at the Bangkok Institute of Theology (BIT). Besides his teaching responsibilities, he advises students and alumni and serves local churches through the ministry of the Word and Sacrament.
Carol provides ministry from the home and serves on the faculty of the Bangkok Institute of Theology, where she teaches English to the entering class. Besides her family and teaching responsibilities at BIT, Carol volunteers with The Well, an outreach ministry to women in prostitution. Carol says, "Mostly I enjoy and desire to live for Jesus in the relationships with my family, Thai colleagues, neighbors and friends who do not yet know Jesus' love for them."
Country context
Thailand, known as Siam until 1939, is the only country in Southeast Asia that was never under colonial rule. In the 1980s its economy changed from one based primarily on agriculture to one more focused on the industrial and service sectors. The economy's fast growth sent a substantial number of people from Thailand's rural areas to urban centers. More than half a million Thai people are living with HIV/AIDS, a high-rate of infection that is partly the result of a large-scale sex industry. Nearly 95 percent of the country is Buddhist, 4 percent is Muslim, and less than 1 percent is Christian. Presbyterians began mission work in Thailand in 1840, and Presbyterianism is one of the Protestant traditions that helped form the Church of Christ in Thailand. While the CCT's membership is relatively small, its work in health, education and social ministries is widely known and appreciated.
About Leith and Carol Fujii
Prior to discerning a call to mission in 1998, Leith taught at Wright Community College in Chicago as an instructor in their workforce training department, providing English instruction for adults at their employment sites, and as an adjunct professor of English. While at Wright, Leith also was an adjunct professor at North Park Theological Seminary and an interim pastor at Grace Evangelical Covenant Church.

After graduating with a Bachelor of Science in oceanography from the United States Naval Academy in Annapolis, Maryland, Leith served as an officer in the U.S. Navy. On leaving the Navy, he worked as an assistant to the pastor at the Church of Christ, Presbyterian, in Chicago, Illinois.
Leith holds a Master of Divinity in pastoral counseling from Trinity International University and a master's in linguistics from Northeastern Illinois University in Chicago.
Carol holds a Bachelor of Arts in art education from the University of Maryland. During her university years she was nurtured and discipled in her relationship with God through the ministry of the Navigators and the local church. She was an international trainee in Japan with the Navigators from 1979 to 1981.
Birthdays:
Leith - October 18
Carol - July 16


Topics:
Tags:
Comments
I keep trying to enlarge that picture everytime I see it. Must be too long between occasions where you are all together. You were such a Godsend while we were in Bangkok and we are forever grateful.

Your children have grown...what a surprise :>). We welcome your next visit to Moline...hopefully, it won't be too long! May our Lord continue to bless you as you bless others in His precious name!

Great family picture. Glad to hear God is using and protecting you in His service there. Our thoughts, love and prayers to you.