Meet the Director
Rev. Dr. Rhashell d. Hunter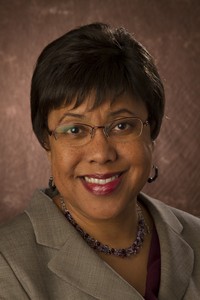 The Reverend Doctor Rhashell D. Hunter is the Director of Racial Ethnic and Women's Ministries in the Presbyterian Mission Agency of the Presbyterian Church (U.S.A.). Prior to joining the Presbyterian Mission Agency, she served as Pastor of Community Presbyterian Church in Flint, Michigan, from 1998 to 2007, and she was Associate Pastor for Worship, Music and the Arts at Fourth Presbyterian Church of Chicago, from 1993 to 1998. She is past Moderator of the Synod of the Covenant.
Dr. Hunter was awarded the Doctor of Ministry in Preaching degree and the Master of Divinity degree from McCormick Theological Seminary, the Master of Fine Arts degree from Trinity University, the Bachelor of Arts degree and a Texas Teachers' Certificate in Drama and Journalism from the University of Houston. She has also served as an Adjunct Professor of Preaching at McCormick Theological Seminary, Western Theological Seminary and in the Association of Chicago Theological Schools Doctor of Ministry in Preaching Program. She is a frequent preacher, keynote speaker, and workshop leader, having taught Anglican priests in Canada in excellence in preaching programs, teaching and ruling elders and church leaders in national Presbyterian Church (U.S.A.) conferences, and leading worship for small and large congregations, including racial ethnic and new immigrant churches.
Dr. Hunter is a contributor to Preaching God's Transforming Justice, a Lectionary Commentary for Church Years A, B & C, published by Westminster John Knox Press in 2011, 2012 and 2013. She is also the writer of the PC(U.S.A.)'s Celebrate the Gifts of Women resource for 2011. Her paper, "Gathering Everyone at the Center," was presented at the Academy of Homiletics, and her article, "Preaching as Testimony: African American Womanist Preaching," was published in The African American Pulpit journal.
She is a second career clergy person, having had a career in the performing arts in New York, Dallas and Houston. She has integrated her gifts in the performing arts with her ministry in the church and has provided experiences that integrate drama and dance into the worship life of the congregation. She has a love for preaching and also a commitment to building bridges in multicultural communities.
Dr. Hunter was reared in Dallas, Texas, in multicultural Presbyterian congregations. She is the daughter of The Rev. Dr. Charles A. Hunter and Mrs. Annie Mary Alexander Hunter.