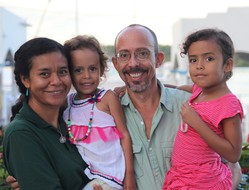 Letters from Mark Hare and Jenny Bent
Subscribe to Mark and Jenny's letter RSS feed
2015-2016
December 2015-January 2016 - Changes
November - Dialogue and Community
June - A Storm of Change
February - Working Together in Batey 7
Febrero - Trabajando Juntos en Batey 7

2014
November - Yard Garden Project
August - Progress in Batey 7
Spring - A Youth Workshop
Primavera - Un Taller de Jóvenes

Older Letters
December 2013
Deciembre 2013
June 2013
April 2013
August 2012
June 2012
December 2011
August 2011
May 3, 2011
May 26, 2010
August 6, 2009
January 21, 2009
For older letters, contact Mission Connections
The 2015 Presbyterian Mission Yearbook for Prayer & Study, pp. 61, 62
Mark Hare and Jenny Bent
Mission co-workers in Haiti and the Dominican Republic
Serving with Famer's Movement of Papaye (MPP) and
the Evangelical Dominican Church
Blog: Mark and Jenny – MPP/PC(USA)
Blog Batey 7 and the Good Samaritan Clinic
Give to Mark and Jenny's MinistryMeet Jenny Bent in a video Download Mark and Jenny's Prayer Card
Contact: Mark Hare (mark.hare@pcusa.org)
Contact: Jenny Bent (jenny.bent@pcusa.org)
Jenny and Mark will next be in the USA for the 2015/16 school year. Email them to extend an invitation to visit your congregation or organization.
About Mark Hare and Jenny Bent's ministry
Mouvman Peyizan Papay (MPP) is a grassroots movement whose goal is to help small farmers improve their living conditions. It began in 1973 in the small community of Papaye and now has members throughout Haiti. Mark Hare works with the members, advising them on ways to increase food production. His work helps farmers provide adequate nutrition for their families and generate income by selling excess crops.
The Evangelical Dominican Church operates a community health program in bateys, company towns where sugarcane workers live. Many of these workers are from Haiti and work long days for low wages and live in conditions that often lack clean water and sanitation services. Jenny Bent, Mark's wife, helps the Evangelical Dominican Church with their health clinics and with the development of its program to train health care leaders.
Mark Hare and Jenny Bent's ministry with Haitian people transcends international borders. Since 2004 Mark has worked with MPP, helping Haitians learn to grow a lot of food on a small amount of land. Jenny began working with the organization as a volunteer after their marriage in 2008, but in 2012 their ministry base moved just across the border to Barahona, Dominican Republic. Mark continues his work in Haiti, but Jenny came under mission appointment and began a new ministry with Haitians in the Dominican Republic.
Jenny helps the Evangelical Dominican Church with its health ministries in the bateys, company towns largely populated by Haitian sugarcane workers.
Mark's work in Haiti demands resourcefulness. One of the most popular agricultural techniques he teaches involves making miniature garden plots inside discarded auto tires. "In the dry season, there is no rain for five to seven months and people run out of food," Mark says. "So the tires are a way that they can produce something even during the time when they normally couldn't."
This and other productive practices developed by MPP helped rural Haitians feed family members and friends who fled to the countryside after the 2010 earthquake devastated Port au Prince.
Communities in the Dominican Republic are also trying to cope with the large number of Haitians who fled the earthquake's devastation. Violence between Haitians and Dominicans is not uncommon. In addition to her health care ministry, Jenny also wants to be a witness for reconciliation. "My vision is that our Dominican neighbors, friends and colleagues will recognize the inherent dignity of Haitians, and that our Haitian friends and colleagues will recognize the inherent dignity of Dominicans."
Regional context
Haiti became an independent country in the early 19th century when a slave revolt overthrew the French colonial government. It has had a turbulent history marked by military dictatorships, corruption and violence. A massive earthquake struck Haiti in January 2010, killing thousands of people and ruining the infrastructure of Haiti's capital city, Port-au-Prince, and the surrounding area. The Presbyterian Church (U.S.A.) continues to help the country rebuild alongside its partner church, the Episcopal Diocese of Haiti, and other partner organizations. The Presbyterian Church (U.S.A) shares a uniquely ecumenical witness to the gospel in the Dominican Republic, joining other North American Protestant churches in ministry there. The PC(USA) has a long and continuing history of participation with Dominican Christians in their ministries of evangelism, health education and care, development of water sources, academic education and outreach to Haitian immigrants.
About Mark Hare and Jenny Bent
Mark, the son of a Presbyterian pastor, spent his childhood in Ohio. He started international service as a Peace Corps volunteer in the Dominican Republic. Working in an isolated place, Mark found himself reading the Bible and praying more. "That led me into returning, or maybe coming for the first time, to a real dependence on faith," he says.
Jenny is Nicaraguan and grew up in Nicaragua, where her father served as a minister in the Moravian Church. "This was a time of military and political turbulence in Nicaragua, but in spite of violence the church of God was present at all times during the process of bringing peace to Nicaragua," she says.
The church, Jenny says, also helped her develop a global awareness and nurtured her call to work on behalf of poor people.
Jenny brings to her duties a degree in medical technology from the National Autonomous University of Nicaragua. Mark holds an undergraduate degree from Warren Wilson College in North Carolina and a master's in forestry from Michigan State University. They are the parents of two daughters, Keila and Annika.
Birthdays:
Mark – December 9
Jenny – October 9
Keila – July 16
Annika – July 10
Topics:
Tags: