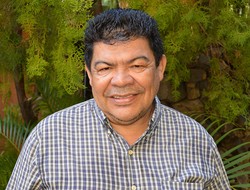 Read letters from Carlos Cardenas
2015
June - Leadership, Community Building
Junio - Construye Resiliencia
March - Easter Season, Worries Season
Marzo - Tiempo de Pascua y Preocupacion

2014
Fall - A Compassion Ministry
Otoño - Un Ministerio Cristiano
June - An Election Accompaniment
Junio - Misión de Acompañamiento

Older Letters
Late Fall - A Companionship Model
Finales de Otoño -Modelo de Compañerismo
Fall 2013
June 2013
Junio 2013
September 2012 #2
September 2012
June 2012
November 2011
Noviembre 2011
August 2011
August 2011 - Espanol
Easter 2011
January 29, 2010
March 4, 2009
December 2008
May 2007
October 2006
April 2006
The 2015 Presbyterian Mission Yearbook for Prayer & Study, p. 65
Carlos Cardenas
Mission co-worker in Nicaragua
Serving with CEPAD, the Council of Evangelical Churches of Nicaragua
Write to Carlos Cardenas
Subscribe to Carlos Cardenas's letters
Carlos occasionally returns to the U.S. and is available to visit congregations. Email him to learn about his schedule and invite him to visit your ministry.
About Carlos Cardenas' ministry
Carlos Cardenas was appointed in January 2006 to serve in development and disaster relief. He is based in Managua, Nicaragua, but is available to travel throughout Central America in the event of natural disaster.
When not involved directly in disaster relief, Carlos works with CEPAD, the Council of Evangelical Churches of Nicaragua, which works in poor communities throughout Nicaragua by means of development programs and emergency relief. Carlos trains community leaders involved in local development projects and helps build skills of CEPAD staff. He also assists CEPAD in market development and food security initiatives.
About Carlos Cardenas
Originally from Honduras, Carlos is now a citizen of Nicaragua. From a poor family, Carlos won a scholarship to study in the former Soviet Union during the 1970s.
"In those years," writes Carlos, "I embraced Marxist theory and was a militant atheist. In those days, if someone wanted to talk to me about God, I waved him away. When I began to work with the Quakers, though, I began to rediscover my spirituality. I crossed an important bridge then when I could say to myself that I'm here in this world because of God's will. That helped me to discover the real sense of my life as a very small part of God's mission in the world. I found a way to come back to God through community service to those suffering in hopelessness and need.
"Despite the hardness of my heart during those years, God has blessed me with some gifts that we often take for granted, such as the precious gift of life itself, a wonderful family, good health, the sunshine of every new day, and the modest satisfaction of our daily human needs."
Prior to his present appointment Carlos was a term employee (on contract) with Presbyterian Disaster Assistance (PDA). From 2002 to 2005 he worked for PDA in El Salvador on the construction of a community of 240 homes for people whose houses were lost in the two earthquakes in January 2001 (6.9 and 6.6 on the Richter scale) that destroyed 47,000 homes and killed 1,100 people.
Carlos has many years of experience in development and disaster relief. He worked in El Salvador with the Agency for Personal Service Overseas (of the Irish government) as a consultant in 2001 and 2002. He was a project manager for the American Friends Service Committee from 1999 to 2000. He was regional director of a rural development agency in Nicaragua from 1994 to 1996 and for Nicaragua's Ministry of Social Action, 1990–1994. He has done postgraduate work and been a part-time professor at the Autonomous University of Nicaragua, UNAN (1996–1998).
Carlos holds Bachelor of Science and master's degrees in agricultural sciences from Friendship People's University in Moscow, Russia. He is a member of Nuestra Señora de la Asunción parish in Juigalpa, Chontales, Nicaragua.
Carlos is married to Maria Auxiliador Alvarez, and they have two children, Rosaura Aracelly and Carlos Roberto.
Birthday: May 10
Topics:
Tags: