Marilyn Gamm is the 2014–2016 Chair of the Presbyterian Mission Agency Board
Email Marilyn
May 2016
Pentecost
In the last days it will be, God declares, that I will pour out my Spirit upon all flesh, and your sons and your daughters shall prophesy, and your young men shall see visions, and your old men shall dream dreams.–Acts of the Apostles 2:17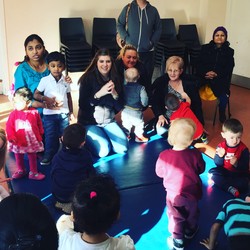 The Christian Day of Pentecost is a day for dreaming—a day for Holy Spirit-inspired dreaming about what might be, a day for openness to exploring the new possibilities God is placing before us. And through his quoting the prophet Joel in his Pentecost sermon Peter teaches us that Pentecost is a day to recognize the God-given gifts, inspiration and witness of the young people in our midst. The Day of Pentecost teaches us that young people are not only the church's future; young people are indeed the church's present. The visions and dreams God gives to our youth and young adults are as equally valid as those given to our senior adults. Indeed, a message of Pentecost is that serving Christ is to be a multigenerational endeavor.
It is for this reason that the Pentecost Offering, one of the four special offerings of the Presbyterian Church (U.S.A.), was established to benefit Young Adult Volunteers, Ministries for Youth and Children at Risk.
Forty percent of the Pentecost Offering may be retained by individual congregations for their own use in supporting local children's, youth and young adult ministries. The ways individual congregations are putting their portion of the Pentecost Offering to work include providing hot meals for at-risk children in their community, providing resources to support grandparents raising their grandchildren, collecting school supplies, providing resources and supplies to domestic abuse shelters that house children and youth, collecting clothing for children and youth and providing resources related to teen pregnancy.
The Presbyterian Mission Agency distributes 25 percent of the Pentecost Offering to support ministries for youth, including travel support assisting presbyteries in sending young people to the Presbyterian Youth Triennium, which will take place July 19-23. Another 25 percent of the offering helps support the Young Adult Volunteer program, through which young adults serve a year at one of more than 20 mission sites around the country and around the globe. And 10 percent of the Pentecost Offering supports the national "Educate a Child, Transform the World" endeavor, part of a global initiative to better the lives of one million children by 2020.
Although the co-missional Pentecost Offering may be received at any time, congregations are particularly encouraged to receive the offering on the Day of Pentecost, which this year is on May 15. Please give as you are able to support the dreams and visions of our children, youth and young adults.
April 2016
Farmers
[Jesus] also said, "The kingdom of God is as if someone would scatter seed on the ground, and would sleep and rise night and day, and the seed would sprout and grow, he does not know how.—Mark 4:26–27
One April morning about 20 years ago—early in my pastoral ministry—a 70-something wheat farmer in my congregation came into my office, stating that he had a question for me. For the first time in his 50 years of farming he had decided to plant corn that spring. It had been a couple of weeks, but no shoots of corn had so far emerged from the soil. Knowing that I had grown up on a Missouri farm that grew corn among its crops, he asked whether he should wait a bit or plow and replant his corn. Because I knew the soil temperature was not yet warm enough to sprout corn, I encouraged him to wait at least a couple of weeks and see what happened. About two weeks later he was back in my office, grinning from ear to ear. Corn plants were emerging from the soil.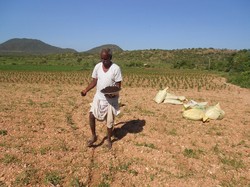 I grew up hearing that farmers are gamblers. The farmer gambles that the seeds planted will sprout. The farmer then gambles that the plants will receive the right amounts of rain and sun to grow and produce a plentiful harvest of grain, fruit or vegetables. The farmer gambles that there will be good weather in which to harvest the produce that has been grown. The farmer gambles that the food grown will not spoil before it reaches those who will consume it. And finally, the farmer gambles that a good price will be paid for the produce that is sold.
This year the Presbyterian Church is observing International Day of Farmers' Struggles on April 17. In our ever-more-urbanized and suburbanized American culture this is a day to learn more about the challenges faced by farmers not only in the United States, but also and especially around the globe. According to the Joining Hands Network of the Presbyterian Hunger Program, "farmers are the ones who feed the planet, but surprisingly, they are also amongst the poorest and hungriest people in the world."
I invite you to co-missionally join with me in learning more about farmers' struggles and how you can support and advocate in their behalf using the following resources:
March 2016
Self-Development
And Ruth the Moabite said to Naomi, "Let me go to the field and glean among the ears of grain, behind someone in whose sight I may find favor." She said to her, "Go, my daughter."—Ruth 2:2
Probably no more than a couple of years ago I was introduced to a new-to-me phrase: "food deserts." As a Midwestern farmer's daughter, I struggled a bit to wrap my mind around the "food desert" concept. Because we grew our own food not only for the table, but also for the freezer and the cellar, going hungry was never an issue. We might not have always had what we might have preferred to eat, but there was always plenty of healthy, wholesome food available. Hunger and starvation were serious problems that occurred in distant lands, but not here in the United States.
Of course, as an adult I've been aware that people not only go hungry, but even starve to death here in the United States, too. Through my introduction to "food deserts," I have come to realize that there are places in our country, mostly urban areas, where there are actually barriers to people being able to access healthy food of any kind.

The Presbyterian Mission Agency's Self-Development of People program is a ministry that affirms God's concern for humankind. A core concept is co-missionally empowering people to benefit from endeavors they own and control. The owning, planting, tending and harvesting from urban vegetable gardens established in a "food desert" is an example of self-development of people.
Eight Self-Development of People projects totaling $97,650 have been funded to date this year:
Somali Bantu Community Mutual Assistance Association of Lewiston/Auburn, Maine, $14,300 to assist this women's group with its program.

Damayan Cleaning cooperative, New York, New York, $15,000 for this worker-owned cooperative.

Wayside Outreach and Development Inc., Brooklyn, New York, $4,000 to replace equipment and supplies lost or damaged during renovation; to provide training in arts, crafts and sewing to seniors to improve their quality of life.

Equipping, Encouraging & Empowering Workers in Vredenburg, Alabama, $14,450 tohelp underemployed and unemployed local residents prepare for the workforce through test preparation and GED classes.

VEGGI Farmers Cooperative, New Orleans, Louisiana, $15,000 for this multiethnic farmers cooperative growing vegetables to sell to the public as well as grocers in East New Orleans.

Families & Criminal Justice, Los Angeles, California, $14,900 for this peer-to-peer support group that works with women who are incarcerated or recently released to improve their health.

Radio Indigena (Indigenous Radio Station), Oxnard, California, $15,000 for this nonprofit community radio station that broadcasts in indigenous languages to serve the community in Ventura County.
Stitching up Detroit, Michigan, $5,000 in technical assistance for a youth-run screen print and graphic design collective.

Self-Development of People Sunday is March 13. The program is one of the beneficiaries of the annual One Great Hour of Sharing Offering received during the Lenten and Easter season.
February 2016